TextRich.com
Gaming and Computing Since 1985
Grand Rapids Strat-O-Matic League
2019 Season
Latest results: May 21, 2019
Note: this league is now on its real-world summer break until Labor Weekend.
This is a web site for the 2019 Greater Grand Rapids Strat-O-Matic Baseball League, also known as GGRSOMBL, also known as GRSOM. We also have a page at StratDraft.com. League schedules and results, transactions, our constitution, and more can be found over there.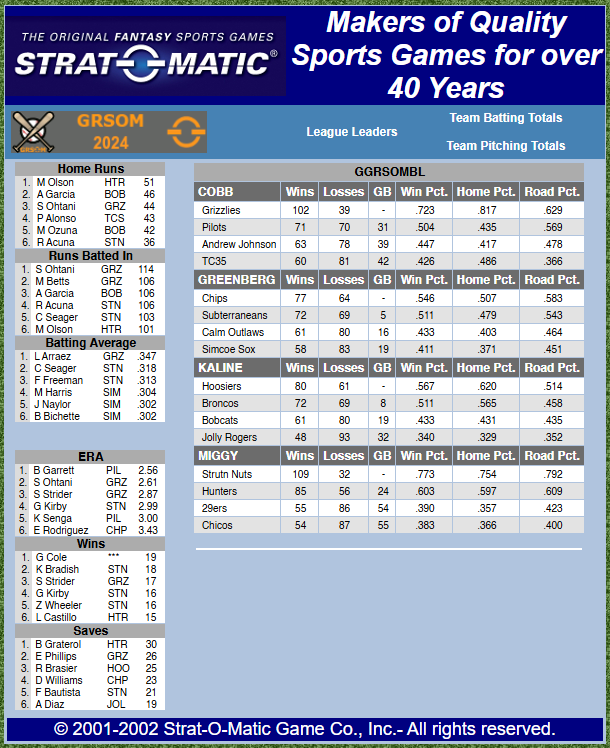 Click the above image to view league stats from the SOM game's WebBuilder in a separate tab. I upload an update once all 12 teams have played their scheduled weekly games. This usually happens no later than Sunday.
---
Results
Week 7 (May 11 to May 16, 2019)
Week 6 (April 28 to May 3, 2019)
Week 5 (April 28 to May 3, 2019)
Week 4 (April 21 to April 26, 2019)
Week 3 (April 15 to April 20, 2019)
Week 2 (April 8 to April 13, 2019)
Week 1 (April 1 to April 7, 2019)
---
Reports
May League Reports
April League Reports
The SOM-generated league reports have:
League Standings
Overall Records
League Leaders
League Grand Totals
Manager Profiles
Injury/Minor Reports
Line Scores
Newspaper Game Stories (incomplete, read the results insted)
Awards Voting
The previous day's best performance
Who's Hot and Who's Not
Record Book
---
Teams
Go back to my Strat-O-Matic Baseball page.
©opyright 2019 by Richard Knopf